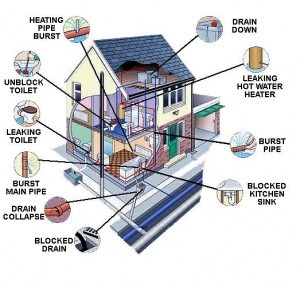 All About Inspections
Once the seller has accepted your offer you need to schedule a Home Inspection that will occur within 10 to 15 days. Ask your inspector as many questions as possible. The questions below are a good place to start.
· What is the condition of the home today?
· Is the home is structurally sound condition, particularly in regard to foundation and roof?
· Are the electrical wiring and plumbing systems in need of repair or modification?
· Are the home's mechanical systems -- heating, hot water, appliances, etc -- in operational condition?
· Is there any evidence of water seepage into basement/cellar or crawl space?
· Are there any environmental hazards present in the home?
· Will a service provider test for radon, water contamination (private wells), lead paint, asbestos fiber, mold, urea formaldehyde foam insulation, termites and wood boring insects, and septic system (Title V)? Note latter inspection is usually done by seller.
· What type of on-going maintenance should be performed once I own the property?
A Home Inspection Can Save You Money: The purchase of a home is probably the largest single investment you will ever make. You should learn as much as you can about the condition of the property and the need for any major repairs before you buy. Repairs to a home can cost thousands of dollars and environmental hazards like mold, lead paint, or formaldehyde can cause serious health problems. You want to make sure you know what you're getting before you complete your purchase. The seller is supposed to disclose the major defects he or she knows about in the house, but what is disclosed is often open to interpretation. The only way to protect yourself from a surprise is to have your own inspection so you have all the information you need to make a wise purchase.
As soon as your offer has been accepted contact an inspector ("licensed" only). His or her job is to make sure you are informed of any possible defects in the property that the seller or we agents may not have known about. The inspector's qualifications, including his experience, training, and professional affiliations, are often a consideration on who you chose.
An Inspection clause in the Offer to Purchase allows you a certain amount of time, usually 10 to 15 days, to have any inspections – structural, radon, plus water, lead paint, mold etc., done if needed. By the time a through inspection is done on a property, more than likely you will now know more about the property than does the seller. This section contains a list of current licensed inspectors. Note that although an "inspection" is not based in law, it's primary purpose is to give you the buyer satisfaction that no major structural issues exists; only secondarily is it used for you to negotiate major repair items or credit for same be given to you at closing.

Your inspection is a valuable investment: Inspections are usually paid for by you, the Buyer. The inspection fee for a typical one-family house varies from one inspector to another. Similarly, the fee ($350 to $450) for the primary structural inspection may vary depending upon the size of the house, particular features of the house, its age, and possible additional services. Other tests such as water quality ($100 to $150), radon ($50 to $75), lead paint, and mold, etc., are available if needed and are done by specialists in their respective fields. The knowledge gained from each inspection is well worth the cost and only needs to be done once at the time of buying.
Beyond the structural inspection: you should always include a radon test, and, if on a private well, a water quality test, and if an older house and you have children, an inspection for lead paint, among other tests. A separate clause in the offer notes that you will do a wood-boring insect inspection either during or after the primary inspection period.
Note that many buyers prefer to use a home inspector who has been recommended to them by someone they know. As I believe I have listed all licensed inspectors that practice in our area, any personal recommendations for an inspector are likely to be found there.
The seller is usually, but not always, responsible to the state-mandated Title 5 septic examination.
An inspector will give you a written report: The standard home inspector's report will include an evaluation of the condition of the home's heating system, central air conditioning system (temperature permitting), interior plumbing and electrical systems; the roof, attic, and visible insulation; walls, ceilings, floors, windows and doors; the foundation, basement, and visible structure.
LICENSED HOME INSPECTORS -- Hampshire & Franklin County market area - Rev. 8/2015
You normally have 10 to 15 days to from the acceptance of your offer to perform the Home Inspection (structural) and other inspections like radon, water quality, radon-in-water, lead paint, mold, insect, etc., that you may wish to perform. Please note that you should make your own appointment with the inspector as his/her time must coordinate with your schedule as you, or your representative, should be present at the inspection. Allow 2 ½ to 3 ½ hours for the inspection. Please let me know the date and time as I also need to be present. Note that I will make the appointment with the seller or the sellers' agent, then confirm with you the day and time.
Ken Arnold, Ahern Inspection Serv. www.ahearninspectionservice.com 413-586-8730
144 Federal St., Northampton, MA 01060
Mike Beaudry, Beaudry Inspections 413-323-5640
150 Chauncey Street, Belchertown, MA 01007
Cary Bissell/Pamela Connors, Affordable Home Inspections 413-532-8600
51 Laurel Street, Holyoke
Joe Bottone, Bottone Inspections 413-589-9191
200 Center Street, Ludlow
Dan Cioch, Cummings & Cioch Inspections 413-786-4300
559 Montgomery Road, Westfield
Jeffrey Cook, Home Inspector 413-575-8689
87 Henry Street, Northampton, MA 01060
Paul Doel, Home Inspector 413-626-2595
535 Bardwell Street, Belchertown, MA 01007
Shawn Johnson/Matt Lucier, Bay State Inspections 413-522-7295
35 Forest Street, Erving, MA 01344 ShawnJohn16@hotmail.com
Lisa Mascaro, Home Inspector 413-527-4329
41 Edwards Road, Westhampton, MA 01027
Mike McDowell/Dale Potter/David Shannon, 800-626-4408
Building Inspectors of America
John Rodkey, Rodkey Home Inspections www.jmrodkey.com 413-259-6969/617-484-6310
Meetinghouse Road, Pelham, MA 01002
David Sherwood/Mike Romanick, Sherwood Insp. Services 866-646-9983
www.sherwoodinspection.com
William Stephens, Prof..Bldg. Inspection Service 413-339-8308
P.O. Box 37, Charlemont, MA 01339
Gordon Tibbitts, Tibbetts Inspections 413-527-1046
Northampton, MA 01060
Ted Towne, T3 Inspections Ted@T3inspections.com 413-282-8616
Easthampton
Paul Viens, PDV Inc. 413-773-0252
278 Main St, Greenfield, MA 01301 www.pdv-inc.com
Edward Wagner www.wagnerinspection.com 413-313-3231
37 Kenneth Road, Easthampton, MA 01027
Note that this list of Home Inspectors for our market area is prepared for your convenience only, and is not meant to imply that any of the above inspectors are more competent than any other who may be recommended to you or whose names you may find from the phone book or internet. As of Fall 2015 the above inspectors are licensed with the Mass. Div. of Professional Licensure. The list itself may be incomplete. For a state-wide list of Home Inspectors please visit the following website: www.state.ma.us/reg/boards/hi/default.htm
Further, you are likely to choose additional tests, such as radon (always), water analysis (always if not on town water), radon in water (always if private well), lead paint (if older house you want to know where), mold (if evident), etc., you need to schedule them during the inspection period as they are considered inspection issues. Note that the insect/termite inspection is separate clause in offer and is often done, but not always, out of official inspection time period. Also, very important, if any lead paint is present you must have it made lead "compliant" before a child six years of age or under can live in house.
Environmental Issues Matter -- Basic Info on Radon, Asbestos, and Lead Paint
Other Inspections by Specialists . . .

Home inspectors who primarily focus on structural integrity and working systems are generally not be qualified to conduct specialized inspections for radon, asbestos, and lead paint — substances that in recent years have emerged as the most common environmental concerns for home buyers. Testing for these substances typically requires a specialist who will charge a fee beyond the basic cost of a general home inspection. As with any other inspection issue, the estimated expense of remedying a toxic substance situation may or may not have already been factored into the home's listing price. If not, the results of an inspection might become a negotiating point.

A Few Quick Facts on Radon
· Radon is a tasteless, odorless gas.
· It is a proven carcinogen and ranks second only to cigarette smoking as a cause of lung cancer.
· If you have a radon problem, it is usually easy and inexpensive to abate.
· There are a number of radon sampling devices that you can buy, or you can have a professional company conduct tests.
· Radon is measured in pico Curies per liter (pCi/L). The EPA recommends that remedial action be taken when a residence exceeds a radon level of four pCi/L. Even if a test result is below 4 pCi/L, testing again in the future is recommended.
· Radon can also enter a home from a private well system. When water is supplied to a home from a well a "radon-in-the-water" test should be done.

. . . Asbestos
· Many older homes have asbestos insulation in walls and ceilings, wrapped around hot water pipes or in exterior shingles.
· Is it dangerous? If you suspect there may be asbestos in your upcoming home purchase, you should have a professional inspection. Generally, asbestos is considered a health hazard when the material is "friable", that is, when it crumbles, releasing tiny fibers into the air.
· Removal of asbestos can be an expensive process and must be conducted by trained and certified professionals. But the presence of asbestos may not be a health hazard, and in some cases, an asbestos hazard can be isolated without removal.

. . . Lead-Based Paint (If house built prior to 1978 both seller and buyer must sign Mass "Lead Paint" form.)
· Approximately three-quarters of the housing in the United States built before 1978 (about 64 million dwellings) contain lead-based paint or varnish. When properly maintained and managed, this paint possesses little risk. However, 1.7 million children have blood-lead levels above safe limits, mostly due to exposure to lead-based paint hazards at home.
· Affects Brain — Lead poisoning can cause permanent damage to the brain and create reduced intelligence and behavioral problems. Lead also can damage other organs and can cause abnormal fetal development in pregnant women. People can get lead in their bodies by breathing or swallowing lead dust, or by eating soil or paint chips with lead in them.
· Often Found in Pre-1978 Housing -- The Residential Lead-Based Paint Hazard Reduction ACT of 1992 directs the Department of Housing and Urban Development (HUD) and the Environmental Protection Agency (EPA) to ensure people receive information needed to protect themselves from lead-based paint hazards. Note: lead paint can also be found in housing built after 1978 – when in doubt, test.
· Current Practice -- A homebuyer must receive information on lead-based paint and lead-based paint hazards when they buy housing built before 1978. Sellers and their agents are responsible for providing information to buyers before a sale. Note that the law does not require any testing or removal of lead-based paint by sellers. Most sellers have not tested for lead paint and on the required form are going to say that the presence of lead paint is unknown to them. Homebuyers have an inspection period to conduct a lead-based paint inspection or risk assessment at their own expense. I recommend testing, particularly when young children will be living in the house to assure yourself that no lead paint is present. Even if children will not be residing in house, testing will let you know which surfaces have lead. Note that the presence of lead paint does not invalidate sales contracts.
· What you should do – LEAD PAINT IS A SERIOUS ISSUE. If a house has lead paint and you have a child under six years of age – or at any age prior to maturity -- I do not recommend you should be purchasing. If you insist, realize that you – not the previous owner -- are responsible for remediating the lead paint prior to taking occupancy. Even if you do not have children realize that someday someone else who does may wish to reside in this house. Note that the presence of lead paint in a house affects value; when buying you need to take this into account in making your offer.
· Pamphlet Available — For a copy of the Environmental Protection Agency pamphlet, Protect Your Family from Lead in Your Home, sample disclosure forms, or the rule itself, call the National Lead Information Clearinghouse www.nsc.org (NLIC) at (800) 424-5323, or TDD (800) 526-5456 for the hearing impaired. You may also send your request by fax to (202) 659-1192 or by e-mail to ehc@nsc.org The EPA pamphlet and rule www.epa.gov also are available electronically and may be accessed through the Internet.
Frequently Asked Question on Inspections

What is a home inspection anyway?
Home inspections tell buyers what they really need to know: "what is the condition of the home today?" The home inspection, performed by a licensed inspector deals instead with the in-service operation or failure of a home's systems and components, as well as the type of maintenance that has been and should be performed. It is based on established criteria of performance and training specific to the home inspection profession.
What if I don't like the results of my inspection?
If you are dissatisfied with the results of your inspection, you may have several options. You could accept the price and terms you originally agreed upon and make any repairs noted in the inspection once you own the property, ask the seller to make some of the repairs, renegotiate the price based upon work needing to be done, or back out of the transaction altogether. You will want to remember, however, that when a property is put up for sale, the condition of the property and any repairs that need to be done are usually taken into consideration when determining the asking price. However, as a practical matter, in most sales we are able to get the seller to address a thoughtfully worded request for any reasonable repairs that he or she was unaware of, and possibly, in relation to those repairs, renegotiate the selling price or obtain a credit at closing.
What are the most common problems buyers can expect to find?
In homes 20 years and older, ASHI experts say that roof shingles, electrical wiring, and surface water drainage systems are the items most commonly cited on inspection reports as needing repair or modification. Inspectors may find water seepage into basement/cellar or crawl space, inadequate attic ventilation, poor roof construction, and substandard masonry and finish work.
Are there any environmental hazards present in the home?
In response to a growing awareness of the dangers posed by certain substances, such as radon gas, lead paint, asbestos fiber, and urea formaldehyde foam insulation, many consumers are paying extra to have special tests performed to make sure their new home doesn't pose a health hazard to them and their family. Although a standard home inspection does not include environmental items, other specialists offer environmental assessments as optional services.
Negotiations after the Inspection
The primary reason for an inspection is for you to end the sale do to dissatisfaction with the inspection. As long as you are in the contingency period of your transaction, the choice to buy the property or to walk away from the deal is entirely yours. This is your discovery period, the time to learn what you are buying and to decide whether to proceed with the purchase or to renegotiate the terms of the sale. You may chose as do the majority of buyers to stay in the transaction of the seller addresses some of your concerns. It is to this secondary reason for the inspection that I offer the following negotiating tips.
What to Expect from the Inspection
A Home Inspection is one of the most important parts of the purchasing process, yet many buyers don't know what to expect from the various players involved. Here's a guide to the roles and responsibilities each of the players has during a typical property inspection.
As the buyer, you hire a state-licensed home inspector. I will be giving you a list of licensed inspectors working in Hampshire and Franklin Counties.
The inspector is not a contractor, though some inspectors were contractors in their previous careers. While they may be able to shed light on what you can or can't do to a property and its potential costs, their main purpose is to inspect the property, its systems and the overall state of the home.
A good inspector will remain impartial and not be an alarmist, though they will point out things to be addressed. The inspector will give the home a thorough viewing, take pictures, make notes and provide you with a detailed report, often over 30 pages, as well as some feedback on future maintenance.
You, the buyer, in all but exceptional cases are present at the inspection. You are there to learn as much about the property as possible. To help you in that task prior to the inspection, review the Seller's Statement and know up front what questions you have for the inspector. Things may have come up during the marketing or during a walk-through that concerned you. Or maybe the seller disclosed that some unpermitted work was done in the basement years ago. Before your inspection period ends you want to know as closely as possible what you're getting into and that there aren't any major surprises down the road.
Whenever possible, go where the inspector goes. It helps to dress in work clothes. Get on the roof, go into the basement, venture into the crawlspace. It will be helpful for the inspector to point things out to you in real-time and demonstrate where the systems are and how they work. Also, some things are better understood in person than read about in a report later.
Generally, the seller or his/her agent will not be present at the inspection. I, as your agent, will be by your side to be with you through the inspection. I have been through hundreds of inspections and have a basic knowledge of what the inspector will look for. In fact, at almost every inspection I'm always learning some new issue to be addressed. Most importantly, I try to know what matters in the big picture. In that light if you're getting a really good price on the home, I may advise you not to bother the seller with small fixes. If you're paying top dollar and discover serious flaws, we are likely to requesting a repair or credit for those items.
After the inspection, usually the next day after we receive the inspection report, you and I will likely huddle to talk about what went on and to strategize next steps. Hopefully, the inspection was flawless and you are one step closer to picking out your new paint colors. However, most likely some additional negotiations may be needed after the inspection.
Either way, it helps to know what to expect going in and to be prepared for anything.
Tips for Negotiating
1. Ask for a credit for the work to be done
The sellers are on their way out. If the property is moving toward closing, they're likely packing and dreaming of their new home. The last thing they want to do is repair work on their old home. As a result, they may not approach the work with the same conscientiousness that you, as the new owner, would. They may not even treat the work as a high priority. If you take a cash-back credit at close of escrow, you can use that money to complete the project yourself. Chances are you may do a better job than the seller, too. Finally, if you get the credit, there will be less back and forth to confirm the work has been done.
2. Think 'big picture'
If you know you want to renovate a bathroom within a few years, then you likely won't care that a little bit of its floor is damaged, that there's a leaky faucet or that the caulking needs to be redone. These things will get fixed during your future renovation. However, the repairs are still up for negotiation. Asking the seller for a credit to fix these issues will help offset some of your closing costs.
Negotiating Repair Items
As with so many other things in real estate, the home inspection is all about perception. There are a handful of basic assumptions that can make or break how the home inspection impacts a potential sale.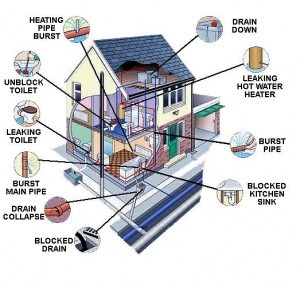 Prepare yourself for imperfection
If you start with the premise that all houses are fixer-uppers you will also come to the conclusion that some houses are not as dreadful as others. No property is perfect and every home or condo, even new construction, will have issues. The more you can be prepared for this, the less shocked you will be at the actual inspection when things come up. There are a handful of very common items the show up all the time, like non-grounded outlets, double tapped circuit breakers, need for exterior painting, kitchen and bath venting issues, etc.
Keep in mind that a good home inspector is someone who will help you understand what is going on with the physical condition of the property. He or she should not be giving you estimates for repairs (use a contractor for this), and should not be saying who should take care of what (buyer versus seller) since he or she has no clue as to the details of the transaction. The inspector's sole job is to inspect a home for imperfections (typical or not) so they will be (and should be) pointing out every minor, in addition to major, defect.
Keeping All in Perspective
The next step is understanding how your transaction and the current real estate market conditions correlate to your home inspection results. If there were multiple offers and/or very low days on market, then the potential to leverage the seller for repairs or credits after inspection is decreased.
In other words, how eager the seller is to sell, and how much you want the house sets the tone for all negotiation. Market conditions also dictate how cooperative a seller is. In a sellers' market, he or she will likely refuse repairs and put the house back on the market, knowing another buyer will appear. In a buyers' market, where many properties compete with each other for sales, sellers are eager to cooperate on repairs.
The key is here is framing the issues in a way that the sellers understand any subsequent disclosure ramifications. Let the selling side know that these issues will come up with any buyer, and that dependent on what they are, that they may have to disclose them to the marketplace if you back out of the deal. Point out that the initial multiple offer feeding frenzy time period has elapsed and that they may not be in as strong a position, as they were when you were competing to buy.
On the flip side, if a home has been on the market for a long period of time and/or has seen multiple deals fall apart at prior inspections, than you can be more aggressive as far as seeking concessions.
Negotiating Post Home Inspection
As part of negotiating post inspection, it is always useful to be transparent with the selling side. I always recommend forwarding the inspection report when the formal request is made. That way they can see that even though some requests are being made, that there are a multitude of other issues in the report that are being left alone, thus showing that the requests are reasonable. This builds trust, as well as understanding for the seller.
It is not advisable to ask for a whole bunch of items, some of which may be minor, unless you want an immediate refusal. Keep your request limited to crucial issues to you that are costly and with which the seller may not have known about. For example, if you ask for redress on 6 issues you may be happy with 4 of the major ones being addressed either in terms of repair or equivalent credit to cover the price of the repair. By focusing on the things that matter and leaving some room for give and take buyers tend to get more rather than less repairs done by the seller.
Credits vs. Repairs
Although you may ask for either, credits off the purchase price are generally preferable to actual repairs. This is because it eliminates subjectivity to the quality of repair work performed, removes what can be tricky pre-closing logistics (almost impossible) to coordinate the work, and prevents repair related verbiage in a purchase contract from over-complicating loan underwriting. Not to mention, as a buyer, you can pick and choose what you actually want to address/how you want to spend that money once you own the property. Note that this credit could be applied to closing costs, although, as mentioned elsewhere, each lender has different limits on this.
Sometime if there's a big ticket expense requested, the seller may think a split is fair. A roof that only has a few years left may be an example, versus a bad water heater where they may be more amenable to covering the full cost.
Remember, keep all in perspective. Understand the severity, or insignificance, of the issues; remember the context of the deal, and prepare yourself for what to expect both before and after an inspection. A good place to start is with the following outline as a guide:
Using Repairs and Safety to Your Advantage
Issues of safety normally provide the buyer with powerful negotiating tools. Things like outdated electrical systems, violations of local codes, structural issues, broken beams and environmental concerns can be powerful home inspection negotiating points.
Older Items as Leverage
Expensive items close to the end of their lifespan are often fodder for successful negotiations. However, if properly framed, they can provide powerful price negotiation tools. As an example of iffy negotiating items, consider a 35-year-old roof that may need to be replaced. The seller will claim that the roof doesn't leak and, therefore, functions fine despite its age. You may counter with the age and condition, hoping for an amicable settlement. Other iffy items can include furnaces and A/C units that work, but are close to dying.
Items such as these are difficult but can work as price-leveraging tools. What normally happens in these situations is that sellers will refuse to budge by responding that the item is not broken, and therefore needs no immediate action. On the other hand, you do not wish to be saddled with avoidable expenses shortly after moving into a new home. Often each party will compromise just enough to get the deal completed. This compromise can include a partial credit on the sales price, or the home seller splitting the cost to fix the item, or a closing credit.
The Seller's Alternative
Any time you have a negotiation the first thing that you have to look at is the other party's alternative to your proposal. With a home inspection the alternative is to not do the work and put the house back on the market. If there was strong demand with multiple offers and lots of showings the seller may logically feel that this is a superior alternative. If there was weak demand than the opposite would be true. The one caveat here is that not all sellers act logically, some people act emotionally so the key to getting what you want is to strategize and figure out what really matters, what totally doesn't matter and what is in between. Ask and stick to getting the things that totally matter. Leave at least a few of the ones that totally don't off the list as a show of good faith and ask for the ones that are in the gray area with an expectation of some back and forth. In the end if you can't get the "must done" items or an acceptable credit walk away.
Post inspection, it is your last bite and you have to feel that you paid is what you wanted to pay. You are likely not to have a lot of money left over for repairs or for "making it right". The only way to handle this is to be prepared to walk away; it is made difficult when you have a spouse or significant other who is looking forward to a "home" and is in a nesting mood, and you don't want to disappoint him/her.
My advice is to assume several $thousands of work will be needed (because problems are concealed or not discovered and the weather here wreaks houses), and overall, are you willing to walk away under those conditions. How you go about in the negotiations and whether the seller wants to be someplace else will dictate the level of negotiations.
Home Inspection Checklist
The following questions highlight common issues found by home inspectors and will help guide you as you analyze the overall condition of your potential purchase.
INTERIOR
Attic
Overall Condition GOOD AVERAGE NEEDS REPAIR
• Are there signs of leaking and water damage?
• Does the attic feel damp or poorly ventilated?
• Is the attic easily accessible? Are pull-down stairs and latches in good repair?
• Was extra insulation ever added?
Bathrooms
Overall Condition GOOD AVERAGE NEEDS REPAIR
• Flush the toilet. Does it run properly?
• Run the faucets, bathtub and/or shower. Is the water pressure adequate? Do fixtures work properly? Is there leaking? Are there signs of drain clogging?
• Is there working ventilation in the bathroom (such as a fan)?
• Are there signs of mold?
• Are the floors stained or warped? Are there any loose tiles? What kind of subfloor is under ceramic tiles?
• Step firmly around the toilet, sink and tub/shower. Does the floor feel soft in any areas?
• Are there signs of damage or cracking anywhere inside the tub/shower?
• Is the caulking surrounding the tub/shower in good repair?
Ceilings, Walls & Floors
Overall Condition GOOD AVERAGE NEEDS REPAIR
• Are floors level or is there sloping and warping?
• Are there cracks or areas where drywall is pulling away on the walls? Note which rooms.
• Do any ceilings, walls or floors have water spots or weak areas?
• Are electrical outlets and switches on the walls in good condition?
• What is known about insulation in walls?
Basement & Water Heater
Overall Condition GOOD AVERAGE NEEDS REPAIR
• Are there signs of water damage, pooling or leaks?
• Examine the water heater and note the make and model. Is the "off" switch easily accessible?
• If gas-only, is it vented? Is the water capacity sufficient for household needs? Is it functioning properly?
• Are there signs of rotting or termite damage on exposed beams?
• Does the basement smell musty?
Doors and Windows
Overall Condition GOOD AVERAGE NEEDS REPAIR
• Do doorknobs and latches open and close properly?
• Do windows open and shut properly?
• Are there signs of leaking, mold or mildew on windowsills?
• Is paint peeling around windows or doors?
• How old are windows?
• Is the caulking in good condition?
• Is glass cracked?
• If single-pane are storms and screens secure?
• Are walls straight and erect, both vertically and horizontally?
Garage
Overall Condition GOOD AVERAGE NEEDS REPAIR
• Are there any functionality issues with the garage door?
• (For garages attached to the home) Are there signs of uneven settling? Is it pulling away from the house? Is fire-rated sheetrock between house and garage?
• Are there stains and/or cracks in the floor?
Kitchen
Overall Condition GOOD AVERAGE NEEDS REPAIR
• Do faucets leak?
• Is ventilation over the stove or other major appliances present and in working condition?
• Look under the sink. Are there signs of leakage? Are pipes in good repair?
• What is the condition of cabinets? Are they attached securely to walls?
• Are cabinet doors in working condition?
Stairs
Overall Condition GOOD AVERAGE NEEDS REPAIR
• Are there handrails on all staircases?
• Are there any signs of rot or damage?
Electrical, Heating & Cooling Systems
Overall Condition GOOD AVERAGE NEEDS REPAIR
• Note make and model of electrical, heating and cooling systems, and look them up with the manufacturer. What are the life expectancies and maintenance timeframes for each?
• Is the fuse box easily accessible and free of rust and other damage?
• Note the number of outlets in each room. Is this sufficient for household needs?
Fireplaces
Overall Condition GOOD AVERAGE NEEDS REPAIR
• What is the condition of the mortar? Is it crumbling or loose?
• Is there creosote (a black, oily residue) buildup in the firebox or chimney flues?
• Is chimney flue lined? Ceramic? If metal is it insulated?
• Are chimneys straight and erect? Or is there leaning?
• Is there a rain cap on the chimney?
• Is there any smoke staining?
EXTERIOR
Driveway & Walkways
Overall Condition GOOD AVERAGE NEEDS REPAIR
• Are there large cracks or crumbling?
• Are there uneven areas?
• Are there visible stains?
• Are major entryways to the home easily accessible by walkways?
• Does the driveway slope away from the home? If not, is there a water drain?
Porches, Decks & Balconies
Overall Condition GOOD AVERAGE NEEDS REPAIR
• Is the foundation for the deck in good condition?
• Are railings secure and sturdy?
• Are there signs of termite damage or rotting?
• Are supporting beams for balconies showing signs of damage and rot?
• Are balconies sloped away from the home exterior? (This is important for proper water drainage.)
Roof
Overall Condition GOOD AVERAGE NEEDS REPAIR
• Is the peak of the roof straight and level?
• Are the shingles showing signs of damage such as breaking, buckling or curling? Are any missing?
• Are shingles single tab or architectural-grade?
• Is there more than one layer of shingles on roof?
• Do you see any signs of water pooling?
• Is sealing around skylights and chimneys showing signs of wear?
• How old is the roof?
Gutters & Drainage Systems
Overall Condition GOOD AVERAGE NEEDS REPAIR
• Is there pooled water in the yard or around the home's foundation?
• Does land near foundation slope away?
• Are rain gutters clear of debris?
• Are gutters firmly attached to the roof and the side of the house, or are there sagging and detached sections?
• Are downspouts extended away from the foundation?
Lot, Landscaping & Foundation
Overall Condition GOOD AVERAGE NEEDS REPAIR
• What is the grade or slope of the land lot? (Downgrades can cause flooding.)
• Walk around the entire home. Are tree roots disrupting the foundation in any places?
• Are tree limbs interfering with cable or power lines?
• Are sprinklers and irrigation systems in working condition?
• Are grass and other landscaping elements overgrown?
• Is there moisture, crumbling or cracking along the foundation?
Siding
Overall Condition GOOD AVERAGE NEEDS REPAIR
• Are there signs of termite damage or rotting wood?
• Are there dents or other signs of wear in aluminum siding?
• Are there signs of damage to bricks and mortar?
This checklist is not a replacement for a professional home inspection. Additionally, a specialist is needed to inspect for radon, asbestos, lead paint, pest/rodent infestations, toxic mold, water quality and electromagnetic exposure levels, as these areas are not covered by a typical home inspector.